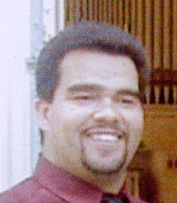 Gilbert Flores - Tenor
Gil is a Senior Music Education Major at Western Connecticut State University. He is one of the original members of this quartet. This is the only quartet he has sung with and has been with us for the past 4 years singing Lead, Baritone and Tenor. Gil is an accomplished musician who is well respected my his peers and his students. Gil has arranged many very good tunes for a-cappella male voice, mostly doo-wop. His talents as a musician go well beyond his tuba emphasis , he is also accomplished in any instrument he picks up, if you give him five minutes to learn it. Gil has no free time because he performs with an area rock band Dead and Dreaming, where he sings and plays the bass guitar. Gil is a very lonley man and we think he sings with us just to pick up chicks.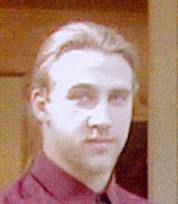 Michael O'Mara - Lead
Mike has been with the quartet for just over a full year, having joined us in November of 2000. Mike is a Jazz studies major at Western Connecticut State University. He is one of the most well respected people in the music department at WCSU. His musical talents include Baritone Sax, Bass guitar and almost any other saxaphone put in his hand. Mike's musical achievements were noted in the 2000 WCSU awards ceremony when he recieved the James Furman Award for Musical Achievement with three other WestConn Students, including bass Joel Knecht. Mike's relative inexperience with barbershop has made his time with The Cutting Edge a very unique experience. His vocal diversity and range, along with his unique approach to the swing rhthyms makes him a very valuable asset to the quartet. Mike is the bass player and singer for a rock band, Tubesteak. Mike is an avid fisherman who spends most of his time fishing, including rehearsal time.

Joel R. Knecht - Bass
Joel along with Gil was in the original Cutting Edge Quartet. He is also a student at Western Connecticut State University where he majors in Music performance on the Euphonium. Joel has been a society member since the summer of 1997, when he joined the Bridgeport Coastal Chordsmen. Joel Has sung with many other quartets in his short time with the society, although most of those quartets were very bad. Joel has also arranged or edited many of the songs that the Cutting Edge sings (see songs and arrangers). In May of 2001, Western Connecticut State University honored Joel's achievements, both instrumentally and vocally, by awarding him the Chairperson's Award for Musical Excellence. Joel was also one of the reciepiants of the James Furman Award for Musical Achievement in 2000, along with lead Mike O'Mara. This proves that Joel is a dork who has little else to do but practice, sing, compose and arrange music for barbershop. To see a cleanly shaven picture of Joel in his first quartet (SoundScape) as taken by the barbershop papparazzi


Click Here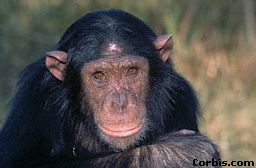 Tim Walsh - Baritone
Tim is brand new to the quartet. He is also music performance major at WCSU, he studies in the field of jazz percussion. Tim's jazz experience complements Mike's strong jazz influence and really fits in wth the quartet's style of singing. Tim is just as much of a basketcase as the rest of us, except he actually wants to sing to baritone, so he is actually more of a basketcase than the rest of us. All joking aside, Tim's bright sound and clear resonant voice helpped him blend into our sound very easily. Tim is a fabulous addition to our quartet, that is when he doesn't have one of his other 1,452 musical activities to get in the way of rehersal time. Over his first few months with the quartet Tim has a aquired a nickname the B**CH Monkey. This is because he is a B**CH and he looks like a monkey.


To see more pictures of Tim in his natural environment

Or to see what Tim REALLY looks like